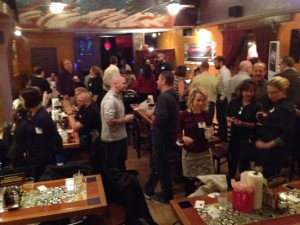 Special Events
Pro-bono campaign work and killer events don't come without a cost. To keep membership fees and pricing for events reasonable while still offering value and benefit for members, AAF Nebraska hosts 6 to 8 special events annually to raise money for educational programming and to fund a fully integrated marketing campaign for one non-profit organization. Special events are a great way to raise money for AAF Nebraska and to make new business connections.
Plan to attend our next Special event!

For event questions or to join the committee contact:
Melissa Seffens, mseffens@hotmail.com
Sean Heisler, sheisler@daake.com
BOOM! Roasted
Annually in November, AAF Nebraska has a little fun with one of our members.
BOOM! Roasted is a night to roast, toast, and celebrate one of our own leading advertising professionals. We'll crack jokes, poke fun, share stories and lift up our advertising leader. During BOOM! Roasted we honor our Ad Pro and Ad Rookie of the Year.
Nominate a worthy AAF Nebraska colleague for Ad Pro and Ad Rookie of the Year – the nomination form will be post in September.
Jingle Bingo
You Can't Handle the Trivia!
Jingle Bingo is one of AAF Nebraska's signature events. It's a little trivia, a little bingo and a whole lot of fun.
The prizes every year from our sponsors, members, and donors are amazing!
Bowl-A-Rama
Each January, ad professionals polish off their bowling shoes and start throwing strikes in hopes of attaining the vaunted AAF Nebraska Bowl-A-Rama trophy. Gather your team of 4 to 6 bowlers and register now. Lanes fill up fast.
2024 Bowl-A-Rama  – January 2024 date to be announced soon.
AdWars
You Can't Handle the Trivia!
The AdWars team competition tests your knowledge of advertising practices, terminology and trivia. But it's anything but trivial (just ask someone from the 2020 AAF Omaha AdWars championship team from Eleven Twenty-Three). It's a brutal display of seemingly useless terms and acronyms. It's a grueling and treacherous evening of famous jingles and tag lines. It's always fun!
2023 AdWars | April 6, 2023 | DJs Dugout 114th and Dodge
ON Brand
An inspirational look at branding, presented in concert by four national trade organizations
The ON Brand conference is a unique gathering of professionals working to create, support and promote strong brands. Developed by the local chapters of three national industry organizations, the American Advertising Federation, the American Marketing Association, and the Public Relations Society of America the ON Brand conference will provide education and development for the many facets of branding, as well as a valuable networking experience for individual career growth.
ON Brand | July 13, 2023 | Creighton University Harper Conference Center
AAF Nebraska members receive a member discount for registration. Please use the AAF Nebraska discount code link to register online at onbrandcon.com. If you do not have the code, contact our office by emailing aafomaha.teri@gmail.com. The link will be sent to you.