The 2021 D9 Leadership Conference is quickly approaching on Saturday, August 28. Registration is FREE to all AAF District 9 members. Our District 9 team is excited to kick off the annual leadership conference this weekend and hope you can join the virtual event.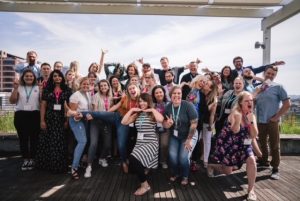 This is a great opportunity to connect with advertising professionals and AAF leaders from across Iowa, Kansas, Missouri, and Nebraska.
Who should join?
Any AAF board or committee members or members looking to learn more about AAF.
Connect, learn, and lead!
D9 Annual
Business Meeting
Saturday, August 28th
9:00 am – 9:50 am
This includes the introduction of officers, review of budget, and the announcement of Club and President of the Year for 2020-2021
Diversity, Equity, & Inclusion
Carlos Velasco
Creative Strategist/Twitter
10:00 am – 10:45 am
Culture Appropriation in Design and on Social. And Why We Should Care.
Noor Nasseer
VP of Media Innovations & Technology at CentroNoor Naseer serves as a leader of innovative media strategy development and client education. She guides clients on how to improve and evolve media plans to accommodate ever-changing consumer behavior and advertising trends. Noor has written for and been cited in industry outlets including Adweek, MediaPost, Advertising Week, and Multichannel News. She has spoken at events for the 4As and the American Marketing Association. She hosts adtech podcast, AdTech Unfiltered. She is a leader of Centro's Diversity & Inclusion programming. Prior to Centro, Noor served in media roles at Starcom MediaVest Group. She is a graduate of Northwestern University with an M.S. in Integrated Marketing.
University of Missouri NSAC Team Swipes Right with Tinder
Noon – 12:45 pm
Holly Higginbotham, NSAC Advisor,
Associate Professor at Missouri School of Journalism
+ Mizzou Tinder Team
AAF Club Services Session
1:00 pm – 1:45 pm
Join Dawn Reeves, Vice President of Club Services from the American Advertising Federation to hear what AAF National is doing to support local clubs and to learn about changes to the Club Achievement competition and the new Ovation Awards.
Club Roundtables and Breakouts
2:00 pm – 2:40 pm
Chose One –
A) Club Programming Brainstorm –
● Pt 1 – Content brainstorm – Bring your topic ideas and/or speaker leads. We'll compile a
topic/speaker shared doc that clubs can continue to use and build upon after the event.
● Pt 2 – Fundraising/Special Events – what events have worked well for your club (in-person and virtual/hybrid) and learn some new ideas to take back to your club.
● Pt 3 – Virtual/Hybrid events – what types of programs work best for what format and what
platforms are people using to keep virtual attendees truly tuned in?
OR
B) Club Presidents – Roundtable
Ask questions related to leading your club, making sure you have a succession plan, etc. plus updates from AAF National Club Services on changes to club achievement and when collection of club assets will be available.
Club Roundtables and Breakouts 
2:45 pm – 3:25 pm 
Chose One –
A) Public Service and Community Support Roundtable
How can local clubs and even AAF at the district level play a positive role in our communities, schools, non-profits, etc? For club achievement and Ad2 public service efforts specifically – what are best practices for selecting a public service recipient, defining the scope of work, recruiting the right committee members to complete tasks?
OR
B) Membership Roundtable
Share ideas for membership drives/new member acquisition, getting people re-engaged after covid or after they are no longer on your board, member perks at local and national level, getting members engaged with committees and leadership, etc.!
American Advertising Awards
3:30 pm – 4:15 pm
Share ideas for show ideas, getting entries, selecting judges, etc. We'll be joined by David Campbell, Vice Chairman & COO, Chernoff Newman, and Chair of the National American Advertising Awards Committee to learn what's new for the 2022 competition and for any questions you have.
Grab a Brew and join us for a virtual happy hour and hang out with AAF District 9! 
4:15-5:00PM