August 29, 2023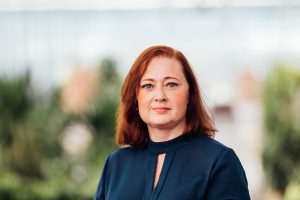 Cassi Warren
Digital Sales Manager
KETV
Hello AAF Nebraska Members and Friends. As I officially start my year of Presidency, and our organization celebrates our third year as AAF Nebraska, I wanted to take a moment and share some thoughts on the upcoming year and highlight successes from our previous year.
As you may know, AAF Nebraska received many honors on the national level including AAF Division III Club of the Year and Jenna Baird was announced as AAF President of the Year. To Jenna and all our Board Members from 2022-2023, many thanks for all your hard work and congratulations on the recognition for your achievements. Thank you as well to all our members. You are an integral part in our success by supporting the work we do throughout the year.
I'm thrilled to have several previous Board members returning to serve another year and am excited for the new leadership that we welcomed to the team on August 15th during the federation's Annual Meeting. Our Board is committed to continuing our mission of being the unifying voice for advertising throughout Nebraska and to be an organization to educate, inspire, and bring an inclusive sense of community to the advertising professionals of Nebraska.
We are working on our programming and calendar of events for the upcoming year and are excited to bring back signature events like the American Advertising Awards, Meet the Pros, ON Brand and AdReads, and look forward to some new programming and special event opportunities. More on that to come.
Our commitment to students is unwavering and we will continue with programming for high school DECA students across Nebraska and events for college students, like the second annual Adventure+ at the end of September. Mark your calendars for our first AdConnect in Lincoln on September 28th from 4p-6p at Yia Yia's Pizza. Stay tuned to your email for more details.
We are excited about what the upcoming year has in store and hope you will join us and get involved. Stay connected and up to date on all events and programming; follow AAF Nebraska on social media, be on the lookout for our monthly AdMuse, and as always, check out our website.
I'm honored to serve as your President and look forward to meeting you and connecting with our community.
Cheers,
Cassi Warren