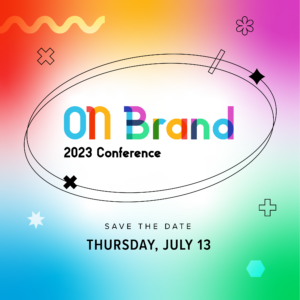 ON Brand Conference Brings Together Professionals for Purposeful Conversations and Meaningful Development
Four area professional networking groups team up to host unique event for advertising, communications, graphic design, marketing and PR professionals
OMAHA, Neb. (July 3, 2023)– For the fifth year, the local ON Brand Conference will bring together hundreds of professionals for purposeful conversations and meaningful professional development focused around creative communications. Attendees are invited to Creighton University's Mike & Josie Harper Center on Thursday, July 13 to network, grow and get inspired.
The ON Brand 2023 speaker line-up features local leaders and nationally recognized individuals with deep expertise in multiple aspects of branding, strategy, design, social media and more. This year's keynote speakers include:
Kathleen Riessen

,

executive coach and strategic planning consultant for advertising and marketing agencies

Katie Risch

, CMO of Basis Technologies

Yeosh Bendayan

,

partner at Push Button Creative Audio, an unconventional audio production company based in Florida
Breakout speakers include representatives from Emspace + Lovgren, OBI Creative, Eleanor Creative, Shape Society, Hearst StoryStudio, Puente Marketing Communications, and FNBO.
The fifth annual event is co-hosted by local chapters of American Advertising Federation (AAF), American Marketing Association (AMA), and Public Relations Society of America (PRSA). 
Registration is now open. To learn more about the conference, sponsorship opportunities and ticket pricing, visit ONBrandcon.com.
Perspective on ON Brand from Leading Pros
"I always take away new lessons and a new perspective after every ON Brand Conference. Each year the experience lends fresh ideas, expert insights and invaluable networking that will elevate your creative and communications journey." 
– Monique Farmer, APR, PRSA Nebraska President
"ON Brand is a unique gathering uniting influential speakers from across the nation and major players in the Omaha marketing creative community, delivering inspiration, practical education, and unparalleled networking opportunities. Both seasoned professionals and those just beginning their journeys are going to walk away energized and excited for our industry's dynamic future." 
– Jillian McNamee, AMA Omaha President
"This is the first year that AMA Lincoln is joining in on ON Brand and we couldn't have been more excited for this opportunity to connect with other marketing rockstars. This is the perfect chance to learn from top-notch keynote and breakout speakers, and we can continue to bring the creativity and inspiration to our personal and professional marketing and branding efforts,"                                                                                                                     – Nathan Schreiter, AMA Lincoln President
"Our industry and community throughout our state continues to grow and change and having the opportunity to partake in shaping education for our members is rewarding. We're excited to be participating in the ON Brand Conference for our fifth year alongside AMA Omaha, AMA Lincoln and PRSA Nebraska. We know this conference will leave you feeling inspired and energized; we hope to see you there."                                                                      
– Jenna Baird, AAF Nebraska President
###
About PRSA Nebraska
The Public Relations Society of America (PRSA) is the nation's largest professional organization serving the communications community with a mission to "make communications professionals smarter, better prepared and more connected through all stages of their career." With more than 150 members, the Public Relations Society of America – Nebraska chapter offers opportunities for networking, professional growth and outreach. Learn more at prsanebraska.org.
About AAF Nebraska
For more than 115 years, the American Advertising Federation Nebraska (AAF) has served as a unifying voice for advertising in the Omaha/Council Bluffs metropolitan area, advocating for the rights of advertisers by helping educate policymakers, the news media and public on the value advertising brings to the well-being of the community. AAF Nebraska fosters the highest standards of practice and works to cultivate the industry's present and future leaders. AAF Nebraska has been honored on the district and national levels by the American Advertising Federation for its work in advertising education, communications, diversity, government relations, club management, programs, membership and public service. aafnebraska.org.
About AMA Omaha
Founded in 1959, the AMA Omaha is the local Chapter of the American Marketing Association, the world's largest nonprofit marketing association with more than 30,000 members. For almost 60 years, AMA Omaha has been the leading network for local marketing professionals and continues to serve the Omaha community to advance the practice of marketing by providing a forum for discussion and on key issues impacting marketing professionals.
About AMA Lincoln
The Lincoln Chapter of the American Marketing Association serves as the resource for area marketers to learn, grow and connect through opportunities that promote education and marketing excellence. It is AMA Lincoln's vision that every Lincoln area marketer knows about the Lincoln Chapter of the American Marketing Association, what it has to offer, and credits a piece of their success to involvement with the organization. Learn more at www.amalincoln.org.