Resume and Portfolio Review Support
We want our AAF Nebraska student members to know that we are with you during this unprecedented time. We realize that the economic fallout of COVID-19 may have affected some of our student members, and now they may face the task of looking for new jobs and internship opportunities. AAF Nebraska members have offered to assist by providing feedback on resumes, cover letters and online portfolios!
If you would like to participate, please contact Teri Hamburger, Executive Director, at aafomaha.teri@gmail.com. We will connect you to an AAF Nebraska professional member willing to review your resume or portfolio.
_______________________________________________________
Meet the Pros 2023
Every year AAF Nebraska hosts Meet the Pros giving students an opportunity to learn from and connect with some of the best advertising and marketing professionals in the business. This year we will be back to an in-person February 28 and March 1, 2023.
Meet the Pros is an annual conference sponsored by AAF Nebraska. Designed to give college students an opportunity to explore careers in the advertising industry, Meet the Pros helps students make professional contacts and offers direction in academic studies, work options and extracurricular activities that will assist students in achieving their career objectives.
Registration and more information about Meet the Pros can be found here.
______________________________________________________
AAF Nebraska Scholarship Funds
AAF Nebraska has endowment scholarship funds with the University of Nebraska Foundation and the Creighton University Foundation.
Up to eight $500, $1,000 and $2,000 scholarships are available to students at:
University of Nebraska – Lincoln
University of Nebraska at Omaha
University of Nebraska at Kearney
Creighton University
Students seeking to apply must meet the following criteria:
Completed the first semester of their junior year as an advertising major, marketing major, communication (broadcast, journalism, mass media) major, public relations major or visual communication and design major
Have at least a 3.0 grade point average and are currently enrolled in at least 12 credit hours
Are members of a student advertising club or an American Advertising Federation chapter
Attended the AAF Nebraska's Meet the Pros educational seminar
Show great interest in the field of advertising as shown by student ad club involvement, extracurricular activities, work history, internships, etc.
Scholarship application deadline is April 1, 2023.
2021 AAF OMAHA SCHOLARSHIP WINNERS
University of Nebraska-Lincoln Winner:
Mackenzie Zaruba
Student UNL
University of Nebraska Kearney Winners:
Grace Pistulk
Student UNK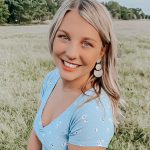 Katelyn Well
Student UNK