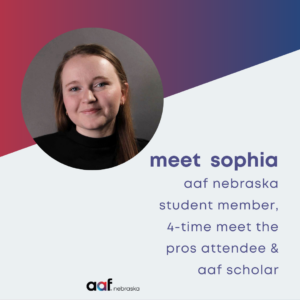 Meet Sophia Gilsdorf, a Visual Communication & Design student majoring in Graphic Design with a minor in Marketing Management at the University of Nebraska – Kearney (UNK). Sophia is from Falls City, NE and will graduate with a Bachelor of Fine Arts from UNK on May 19th. After graduation Sophia is planning to pursue a career in graphic design or marketing.
Sophia was drawn to UNK when she saw the close-knit campus life in Kearney. She knew when visiting the campus during high school she would be able to write her own narrative at UNK. Sophia did just that! She served for several years as the UNK Art & Design Department social media coordinator, she held positions with the UNK Art Society as Public Relations Chair and is currently the Art Society's President. Sophia is a Phi Eta Sigma National Honor Society member and works on the management team at Runza.
Sophia is an active AAF Nebraska student member (a 4-year member).  Sophia attended AAF Nebraska's Meet the Pros conference for four consecutive years where she realized she had chosen the right career path for herself. During Meet the Pros each year she enjoyed meeting and networking with students from colleges and universities across the region with similar interests and career aspirations. Portfolio reviews with AAF Nebraska professionals were of great importance to Sophia.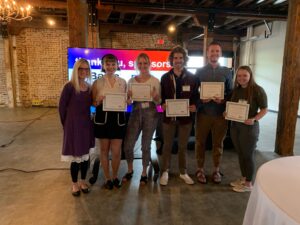 Sophia was awarded an AAF Nebraska scholarship during her senior year (Spring 2022). Last summer Sophia was one of eight AAF Nebraska scholars to participate in the federation's new Scholarship Recipient Day. Sophia recently stated, "Scholarship Day in Omaha was one of the highlights of her senior year as she thanked AAF Nebraska for their scholarship support this past year."
Sophia also attended AAF Nebraska's first AdVenture+ educational program during the fall of 2022 at the University of Nebraska-Lincoln campus in their Experience Lab.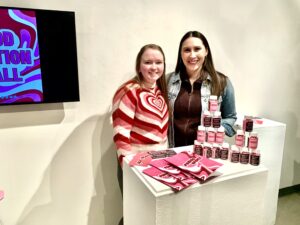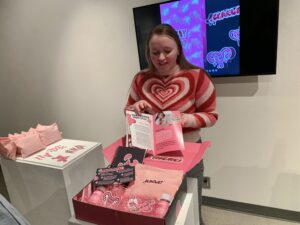 Sophia and fellow VCD Seniors hosted their Senior Show at the UNK Walker Art Gallery on April 28th. Jenna Baird, AAF Nebraska President and Teri Hamburger, AAF Nebraska's Executive Director attend the show. Jenna and Teri were inspired by all the work they saw during the show. Sophia's project was a fictional non-profit organization called "Scarlet".  "Scarlet's" focus was on period education for young girls. Sophia designed print materials, packaging materials, educational pamphlets, calendars, pain reliever packaging, supply bags, and stickers for "Scarlet" along with a promotional video explaining the fictional non-profit and its goals.
We congratulated Sophia on her graduation and thank her for her active membership with AAF Nebraska. If you would like to see Sophia's resume it can be found here.