(Omaha, NE, November 19, 2021) The American Advertising Federation Nebraska (AAF Nebraska) announces the winners for Ad Pro and Ad Rookie of the Year. Kelli Britten, University of Nebraska Lincoln was recognized as Ad Pro of the Year and Adam Turner, Eleven Twenty-Three was honored as Ad Rookie of the Year during AAF Nebraska's BOOM! Roasted Awards event on November 18 at the Alamo Drafthouse Cinema. The event also featured the roast of Jen Landis, founder of Pincurl Girls and professor at the University of Nebraska Lincoln and Patrick Stibbs owner of On The Spot Productions.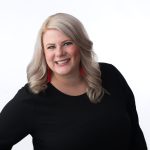 The Ad Pro of the Year award is given to an AAF Nebraska member who has a distinguished track record of service in advertising including professional and community service, with attention to AAF Nebraska service. Kelli Britten is an assistant professor of practice of advertising and public relations at the University of Nebraska-Lincoln in the College of Journalism and Mass Communications.
Britten regularly teaches campaigns, writing, strategy, branding and mass media courses. Britten served as the UNL Student Ad Club advisor for five years, growing its membership and fundraising efforts to record levels. She advised the UNL National Student Advertising Competition (NSAC) team for three years. She regularly mentors students through independent studies, graduate professional projects and honors projects. Britten's students have won Gold and Silver AAF ADDY awards, AMA Prism and merit awards, and Best in Show at AIGA Nebraska SHOW.
Britten is the Lieutenant Governor for AAF's District 9. In this role she is responsible for the district American Advertising Awards competition as well as supporting AAF clubs in Nebraska, Iowa, Kansas and Missouri. Britten served on the AAF Lincoln board for five years. She was the last president of AAF Lincoln and was instrumental in the merging of Lincoln and Omaha chapters to create AAF Nebraska. In addition to her presidency, she served as a co-chair for the 2021 American Advertising Awards | Nebraska.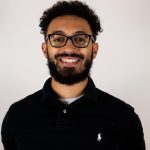 The Ad Rookie of the Year award is given to an AAF Nebraska member with five or fewer years in the advertising business who demonstrates outstanding work both professionally and, in the community, with attention to Nebraska service. Adam Turner's passion for creative work began when he was 2 years old when his father showed him the original Star Wars films. This early source of inspiration shaped his career path. Growing up and making videos on his Sony Handycam, he created stories with his friends using stop-motion. As YouTube grew in popularity, Turner had a way to show the world his vision as he began to upload videos related to anything he liked, from Star Wars to anime and athletic shoes.
While in high school, Turner's channel caught the attention of Adidas and former NBA MVP Derrick Rose. Both enjoyed his shoe reviews so much, they formed a partnership supplying him with Rose's shoes which Turner would then review on his YouTube channel. The channel following grew and the dots were connected between a passion for creating content and the art of promotion (aka advertising).
Turner studied film and new media at the University of Nebraska-Lincoln. Both his junior and senior thesis films, titled Left Field and Underlying Fear, went on to win the school's award for best film and for best directing. Turner now works in Video Editing and Social Media Content at Eleven Twenty-Three, where he's already helped produce, shoot and edit several projects for high-profile clients. Turner has been involved with AAF Nebraska serving on the Community Outreach team.
Britten and Turner come highly recommended by their peers and colleagues for demonstrating outstanding work ethic as well as dedication in advocacy to AAF Nebraska.
About AAF Nebraska
With more than 250 professional and student members, the American Advertising Federation Nebraska (AAF Nebraska) is the unifying voice for advertising in Nebraska. AAF Nebraska offers an organization to educate, inspire and bring an inclusive sense of community to the advertising professionals of Nebraska so that we, and future generations, can continue to do the work we love.
AAF Nebraska has been honored on the district and national levels by the American Advertising Federation (AAF) for its work in advertising education, communications, diversity, government relations, club management, programs, membership and public service.