For Immediate Release
Contact:
Sara Wilson
Smith Kroeger
402.330.0110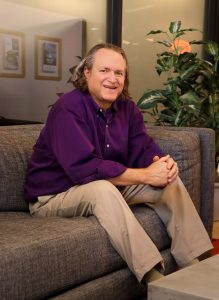 OMAHA, Neb. (Feb. 4, 2022) – Greg Ahrens, executive vice president and co-creative director at Smith Kroeger, will receive the American Advertising Federation Nebraska's top honor, the Silver Medal. The award will be presented during the annual Nebraska Advertising Awards Show and Banquet, Friday, Feb. 18, 2022, at the Farnam Hotel in Omaha.
The Silver Medal is given to an AAF Nebraska member who has achieved success in his or her career; has shown a consistently high degree of creative and original thinking in work endeavors; has strived to increase the stature and raise the standards of the advertising profession; and has been active in civic groups, including AAF Nebraska itself.
"I have admired Greg's work since acquiring SKAR from the Smith Family in 2019," said Terry Kroeger, president and CEO of Smith Kroeger. "While Greg's creative chops have been obvious to the industry for decades, he is a true team player and is constantly doing things that are well under the radar but benefit his colleagues. The entire Smith Kroeger team offers our sincere congratulations to Greg Ahrens on a well-deserved honor."
"Greg is an unmatched creative strategist, superb copywriter/broadcast producer (definitely the best radio writer in AAF Nebraska history), an incredible father, a faithful friend and a man of high character," said Smith Kroeger executive vice president of creative strategy Mark Carpenter. "His creative work has won local, regional and national recognition. Greg is the total advertising package and I wish I had his portfolio and broadcast reel. He's what the Silver Medal is all about."
An AAF Nebraska member since 1997, Greg has served in almost every capacity and position in the organization. He was president from 2007-2008 and chairman of the board from 2008-2009. In addition to chairing numerous AAF public service committees, Greg has worked with several local charitable organizations and nonprofits, including Goodwill Industries, The Salvation Army, Grief's Journey, TeamMates Mentoring, Juvenile Diabetes Research Foundation, The Kim Foundation, More Tomorrows, D.J.'s Hero Awards, Omaha Rotary and Mid-America Council – Boy Scouts of America.
Most notably, Greg was a member of the Iowa Air National Guard and retired after 20 years of service.
About Smith Kroeger
Founded in 1962, Smith Kroeger is a marketing communications company that's always on the move. By creating powerful, agile branding and marketing ideas that match the speed of commerce, Smith Kroeger delivers high-impact results that accelerate clients' success. A premier full-service agency with digital, media and creative services, Smith Kroeger has expertise in the automotive, financial, energy, senior living, health care and retail industries. For more information and to see samples of work, visit smithkroeger.com.